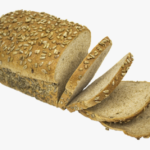 Print Recipe
90-minute "WONDER" Bread
Has your mouth ever watered at the thought of hot homemade bread coming out of your oven but you didn't want to spend hours messing with it? Then this easy recipe is definitely for you. No bread machine is required, and you can go from scratch ingredients to healthy, light textured wholesome bread, for you and your family in a scant 90 minutes. Only five or six minutes of actual preparation are required, the rest of the time is yours!
Equipment
A food processor (or you can do this by hand)
Ingredients
3 –

cups

whole wheat flour

1/3 –

cup

vital wheat gluten*

1-1/2 –

teaspoons

salt

1 –

package or 1 tablespoon yeast

3 –

tablespoons

sugar

or honey, or pure maple syrup

About 14 ounces of warm water

about 1100 F
Instructions
Place the flour, gluten, salt, yeast, and sugar in the processor's bowl.

Turn it on and pour the water into the bowl in a steady stream. Pour in most of the warm water until the dough "catches" and starts pulling cleanly away from the bowl.

Don't worry if you still have more water left, if it is raining outside or muggy, you will use less water. If it is dry as a bone, you will need more water. Bread making is an art, not a science.

Allow the dough to spin around for about a minute. Stop the processor and stick your finger into the top of the bowl. The dough should be just slightly sticky. If not, try adding one or two tablespoons of flour to bring it to that consistency.

Put some flour on a breadboard or clean counter top, then turn the bowl over and just let it plop onto the surface.

Sprinkle some flour on top of the dough and knead a few times. Kneading just means pushing the dough down with the heels of your hands until it is wider than long. Then fold the dough over, turn it a quarter turn, and start again.

Now here is where part of the "art" of bread making comes in. You want the dough to feel smooth but not too stiff. It's what I call "baby tush" consistency.

Roll the dough into a ball, place it in a large bowl, cover with plastic wrap, and place it in an area where it won't get disturbed (I place mine in an oven with the heat turned OFF).

Notice, by the way, that I didn't do as our grandmothers did: I did not grease the bowl, there is no need to add fat of any kind to this bread. Whole wheat provides enough natural fat. It will not stick to the bowl.

Okay, all of that took all of about three to four minutes. Now just let it rise for a full 30 minutes.

When the timer dings or beeps or whatever (you do time this), punch down the dough.

What's that? Simple, just punch the dough smack dab in the middle of the beautifully risen dough. You'll hear air escaping. Two or three good hits with your fist ought to do the job and get out some hostility you may have pent up inside of you, too.

I use only Baker's Secret" baking pans for my bread. Why? You don't have to spray oil on them. When the baking is done, the bread just falls out.

So take your dough, place it into a bread pan, and let it rise uncovered for, you guessed it, another 30 minutes.

After the beep, buzzer, whatever, turn the oven to bake at 3750 F for…uh huh, 30 minutes.

By now you should smell the heavenly aroma of b-r-e-a-d.

It helps to have a wire rack to let the bread cool. If the bread doesn't slide out of the pan, just twist it slightly or bang it a couple of times on a counter top.

Test for doneness by tapping on the loaf, you will hear a nice hollow sound.

There is nothing quite as satisfying as a slice of hot bread and pouring honey or maple syrup into it.
Notes
Happy eating! If you've any questions or comments, just drop a note to Beverly Kurtin.
This recipe was originally submitted to TooJewish.com by Beverly Kurtin on Saturday, February 17, 2001