This simple recipe will grow to become a family favourite… give it a try.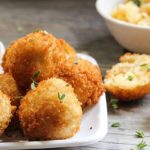 Print Recipe
CHEESE BALLS
Ingredients
1/2

pound

low-fat cottage cheese

0.5% fat is best

2

eggs

separated

2

tablespoons

sugar

optional

1/2

teaspoon

salt

if no sugar

4

tablespoons

matzo meal

or more

2

tablespoons

butter — melted

optional
Instructions
Beat egg whites till stiff. Mix cheese, yolks, and sugar or salt. Stir in enough matzo meal to make a batter thick enough to work with your hands. Fold in butter (if used) and egg whites. Let stand 1/2 hour.

Make small balls and drop into boiling water. When they rise to the top, They are done. Serve with apple sauce, sugar-cinnamon or sour cream.
This recipe was originally submitted to TooJewish.com by Shoshana Blitz on Friday, February 16, 2001.